60 Fascinating Facts About Bono
Bono is celebrating his 60th birthday on May 10—and you're surprised because, WTF, how is the lead singer of U2 60?
But that's what happens eventually when someone's been rocking out since before you were alive and has left his mark, not just on the music world, but all over the planet in many not-so-mysterious ways.
"I'm not sure that my younger self would approve of where I've got to, but I like to think that if my younger self stopped punching my face, my younger self would see that I've actually stayed true to all the things I believed in," Bono told London's Sunday Times magazine in 2018.
"I'm still in a band that shares everything," he continued. "I'm not just shining a light on troublesome situations, but trying to do something about them. I still have my faith, I'm still in love, I'm still in a band."
Bono makes it all sound so simple. Though making things needlessly complicated certainly doesn't seem like his style, especially now that he's one of rock's elder statesmen, the journey to being able to check off all of life's greatest hits at a glance wasn't altogether a smooth ride. Or at last not a boring one.
In the name of love of a singular artist who has fronted one of the best rock bands for more than 40 years, here are 60 facts about Bono: 
Koh Hasebe/Shinko Music/Getty Images
1. Bono was born Paul David Hewson on May 10, 1960, at Rotunda Hospital in Dublin.
2. He has one brother, Norman, who's 8 years older.
3. Mother Iris (née Rankin) was Protestant and father Brendan Robert "Bob" Hewson was Catholic and they had originally planned to raise their older son Protestant and the other Catholic, but both brothers ended up at the Church of Ireland with their mum.
4. He was a gifted chess player as a boy and competed internationally at 12.
5. "Home was a pretty regular three-bedroom house," Bono told Rolling Stone in 2005. "The third bedroom, about the size of a cupboard, they called the 'box room'—which was my room."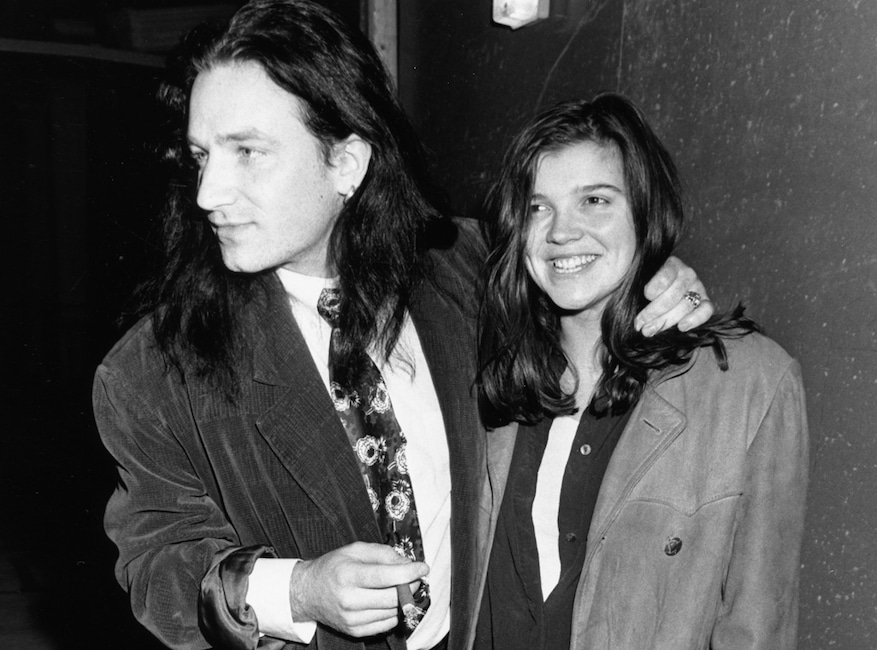 Dave Hogan/Getty Images
6. As a member of the not particularly nefarious street gang Lypton Village (Monty Python fans who put on performances in the city center meant to provoke), young Paul had several nicknames, including Bono Vox of O'Connell Street (bonavox roughly meaning "good voice" in Latin) and, eventually, just Bono.
7. They'd get in fights, but "we didn't drink," he told Rolling Stone. "Because people who spilled out of the pubs on a Friday night and threw up on the laneway—we thought we were better than them."
8. On Sept. 25, 1976, 16-year-old Bono, 15-year-old The Edge (David Evans), Adam Clayton and 14-year-old Larry Mullen Jr. found each other when the first three (as well as Edge's older brother Dik Evans) responded to a notice Mullen posted at Mount Temple Comprehensive School looking for musicians to make a band. They were called Feedback for a few months, and then The Hype. Dik joined Virgin Prunes in 1978, after which the foursome rechristened themselves U2—which is a type of American spy plane.
9. Bono also met Alison Stewart at Mount Temple, in 1976. She was in the same class as The Edge, a year behind him.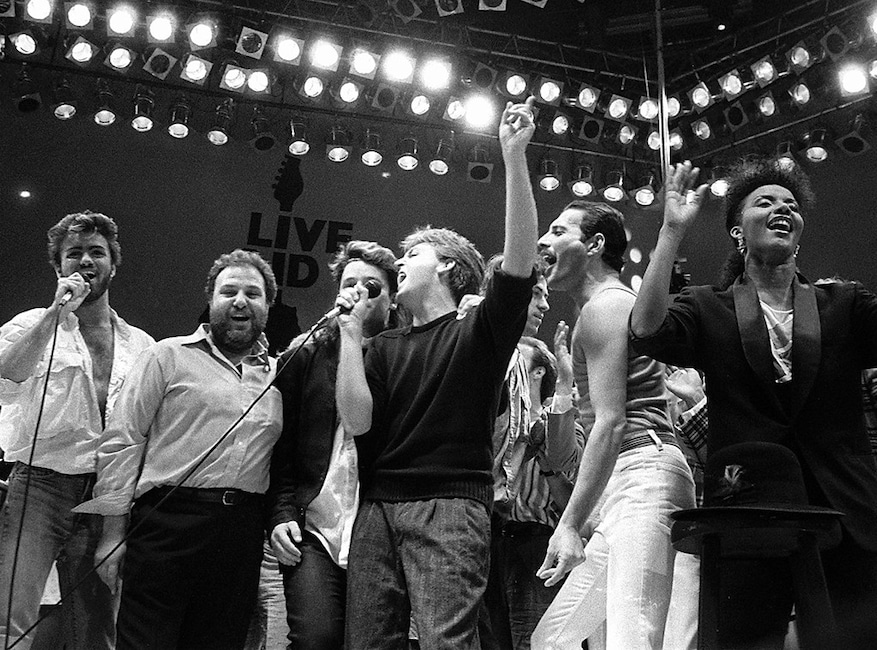 AP Photo/Joe Schaber
10. Bono remained best mates with the other founding members of the Virgin Prunes—painter Fionan "Gavin Friday" Hanvey and avant garde artist Derek "Guggi" Rowen.
11. Around the time they released their debut album, Boy, in 1980, the four members of U2 were sharing a two-room flat in London's Collingham Gardens, near South Kensington.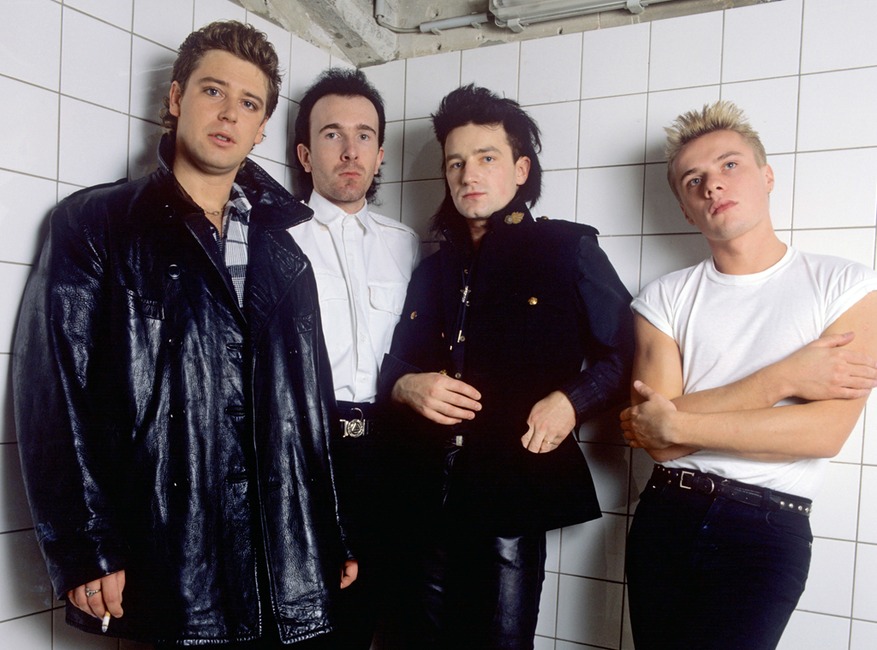 Fryderyk Gabowicz/picture alliance via Getty Images
12. Bono cites his mother's death (of a brain aneurysm she suffered at her father's funeral) in 1974, when he was 14, as the point where his self-confidence as a lad just "cracked," as he told Michka Assayas for the 2005 book Bono. "I felt abandoned, afraid," he recalled. "I guess fear converts to anger pretty quickly. It's still with me." And to that day, "I like to be around people," as opposed to by himself. 
13. After Iris died, he lost his taste for any food and stopped enjoying mealtimes. He would eat airplane food that his brother brought home from his job working IT for the national airline for lunch and dinner. (That has since changed, and now he appreciates a good restaurant.)
14. He considers Boy "remarkably uplifting, considering the subject matter."
15. The first rock and roll song he heard was The Beatles"https://www.eonline.com/"I Want to Hold Your Hand" at age 4, and the first song he ever learned to play on guitar was "Dear Prudence." In 1985, he shared the Live Aid stage with Paul McCartney. Also in the 1980s, "Yoko came up to me when I was in my twenties, and she put her hand on me and she said, 'You are John's son.' What an amazing compliment!"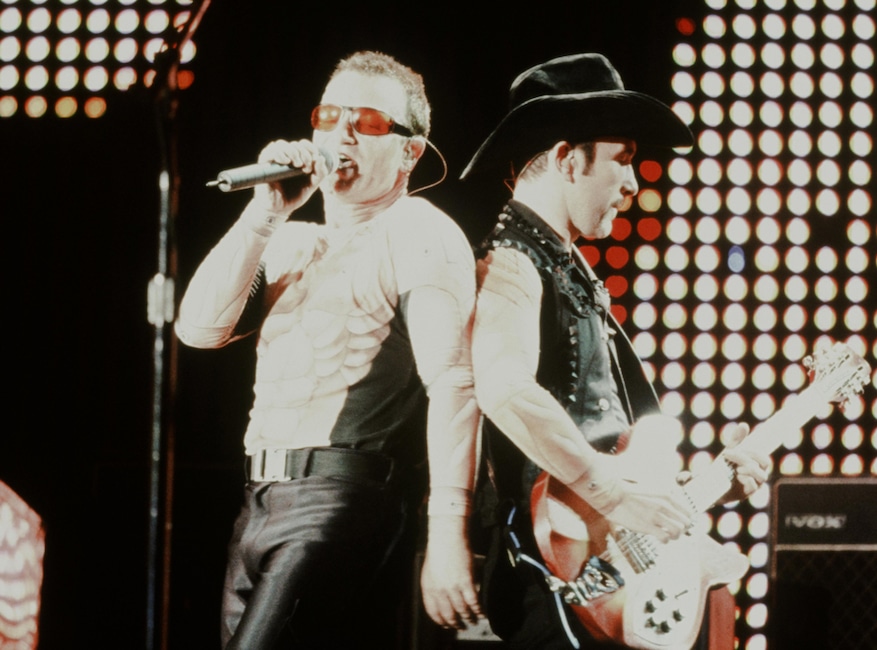 Koh Hasebe/Shinko Music/Getty Images
16. U2 has won 22 Grammys, their first two coming in 1988, Album of the Year for Joshua Tree, and Best Rock Performance by a Duo or Group With Vocal. They won Album of the Year again in 2006 for How to Dismantle an Atomic Bomb.
17. Bono doesn't take sugar in his tea.
18. He claims U2 almost went broke during their 1992-'93 Zoo TV Tour, which was in support of Achtung Baby. "It cost a quarter of a million dollars a day to take that thing around," he told Assayas. "So, if ten percent less people had come to see us, we'd have gone bankrupt, and those kinds of bills, you don't go bankrupt a little, you go bankrupt a lot."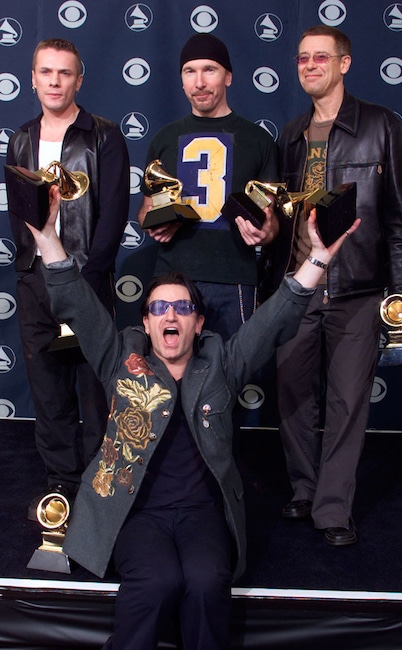 REUTERS/Sam Mircovich
19. As of 2020, Bono is estimated to be worth roughly $700 million, making him the second-richest rock star in the world, second only to Paul McCartney's $1.2 billion.
20. U2 has sold more than 170 million records.
21. They were inducted into the Rock and Roll Hall of Fame in 2005, their first year of eligibility.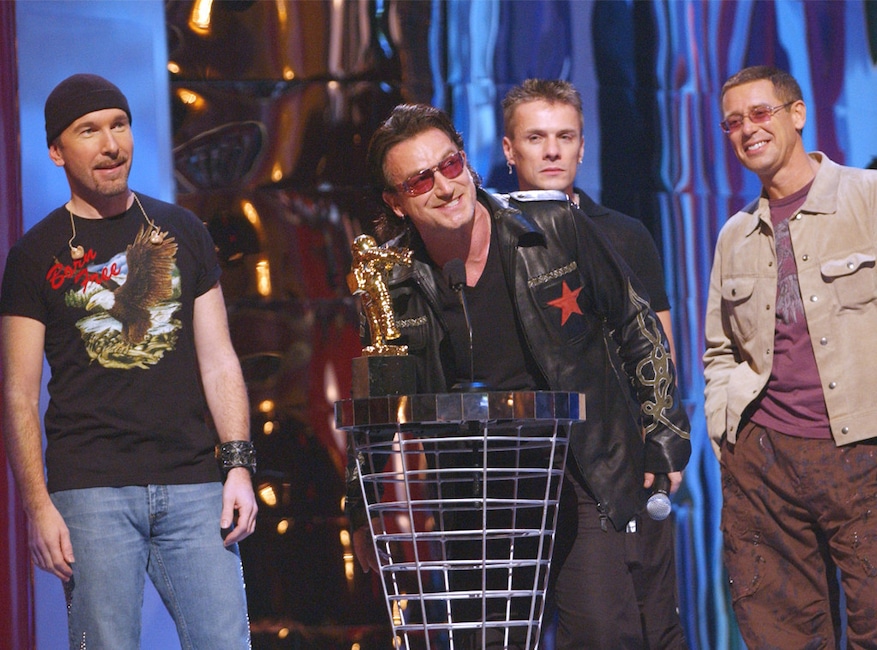 KMazur/WireImage
22. Bono spent two weeks at National University before it was revealed he had flunked out of his Irish-language class, and he was tossed out. His father told him he could spend one year at home, free of charge, to see if his band took off. After that, he'd have to leave or get a real job.
23. Bob Hewson, who died in 2001, traveled to the United States for the first time in the mid-'80s, and was introduced to a packed concert arena in Texas, courtesy of his son. "Yeah, I think he was proud in some ways," Bono told Assayas.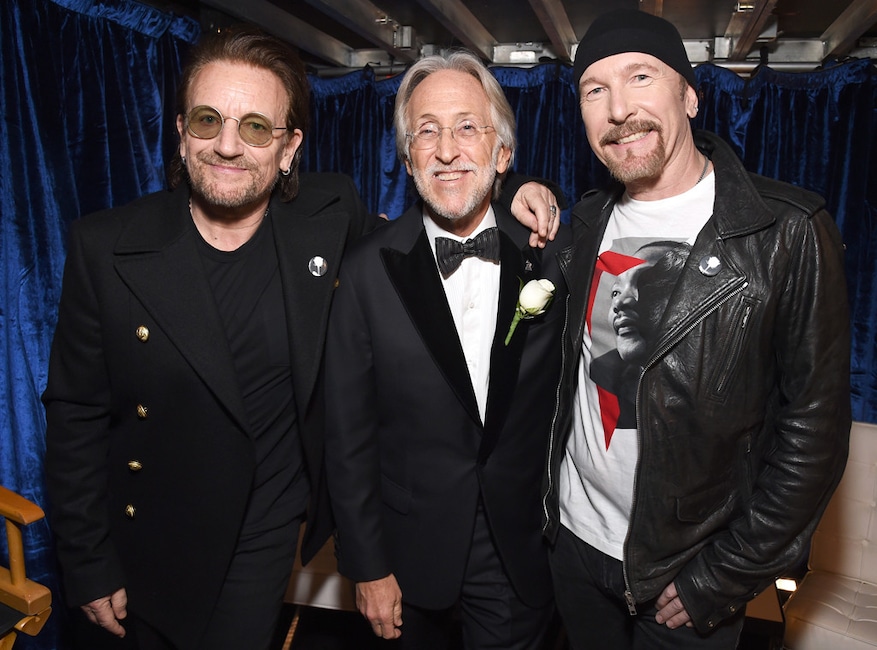 Michael Kovac/Getty Images for NARAS
24. Asked what U2 had argued about the most over the years, Bono couldn't name one thing. "I might think, if I'm honest, there have been periods of time when I have found each member of the band incredibly frustrating…but I'm sure that has happened in reverse about me, too."
25. Around the time they were recording 2000's All That You Can't Leave Behind, "I think I did push their patience the most with our Africa work, just by being on the phone a lot."
26. In 2002 Bono became an ambassador for DATA (Debt, AIDS and Trade for Africa). In 2006, with DATA and Bobby Shriver's One Campaign he launched Product Red—a collaboration with brands on lines of products whose proceeds go to fight HIV/AIDS, tuberculosis and malaria in Africa.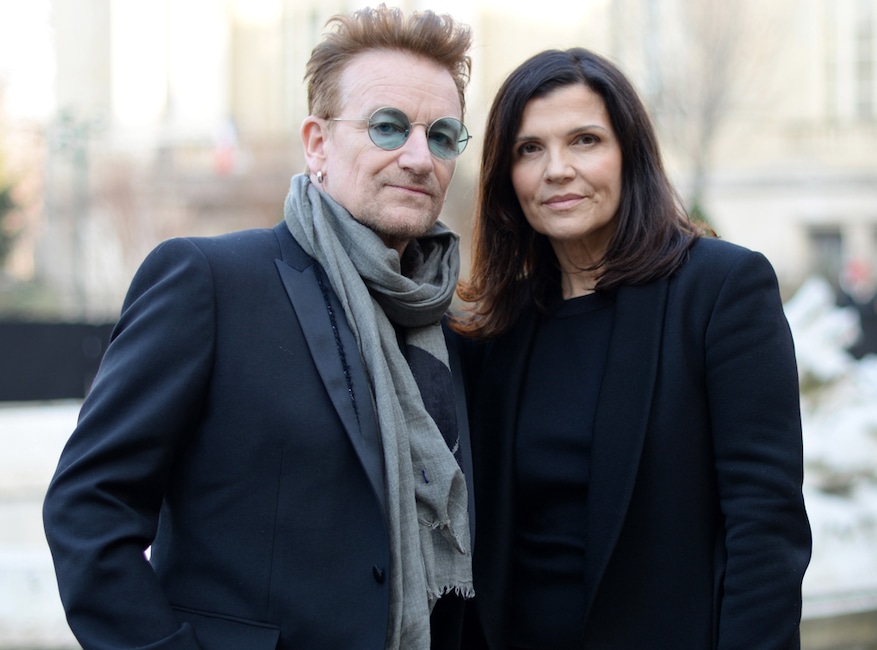 Vanni Bassetti/Getty Images
27. Bono and Ali got married on Aug. 21, 1982. They have four kids together—daughter Jordan (born May 10, 1989, so they share a birthday), daughter Memphis Eve Sunny Day (July 7, 1991), son Elijah Bob Patricius Guggi Q (Aug. 17, 1999) and son John Abraham (May 20, 2001).
28. After Live Aid, the couple spent time working in an orphanage at a refugee camp in Ethiopia—a life-changing experience for both that would help focus their future philanthropic efforts.
29. In November 2016, accepting a "Man of the Year" honor at Glamour's Women of the Year Awards, he noted that he and his wife were celebrating the 40th anniversary of their first date. "I asked my wife, Ali, tonight on receiving this award what I should say," Bono told the audience. "And she just repeated what she's been telling me since we were teenagers, which is, 'Don't look down at me but don't look up at me either. Look across to me. I'm here."https://www.eonline.com/"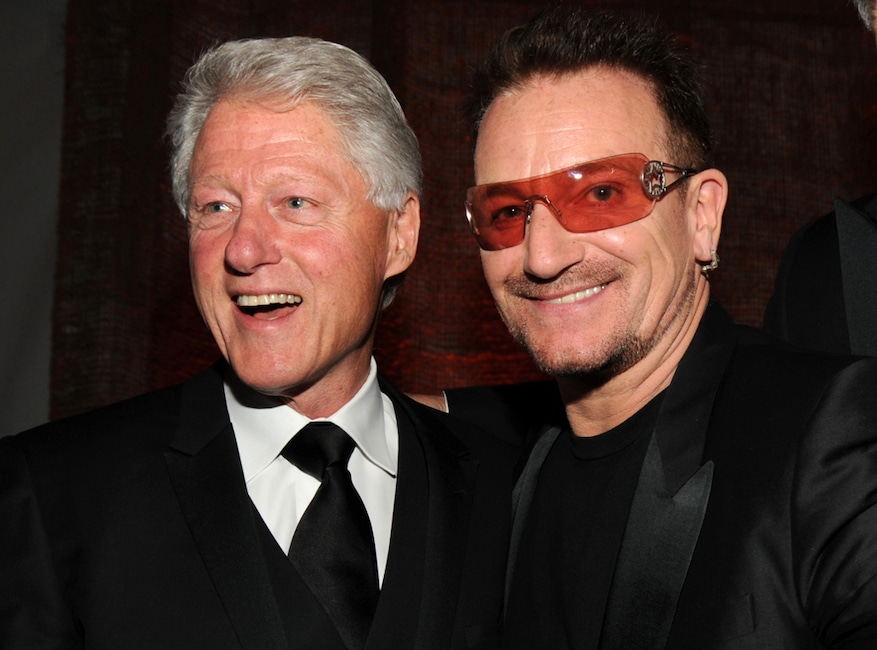 Kevin Mazur/WireImage
30. In 2003, Bono was awarded a Chevalier dans l'Ordre de la Légion d'honneur (Knight in the Order of the Legion of Honor), one of France's highest civilian honors.
31. In 2007, Bono was made a KBE, an Honorary Knight Commander of the Most Excellent Order of the British Empire, by Queen Elizabeth II, for music and his humanitarian work.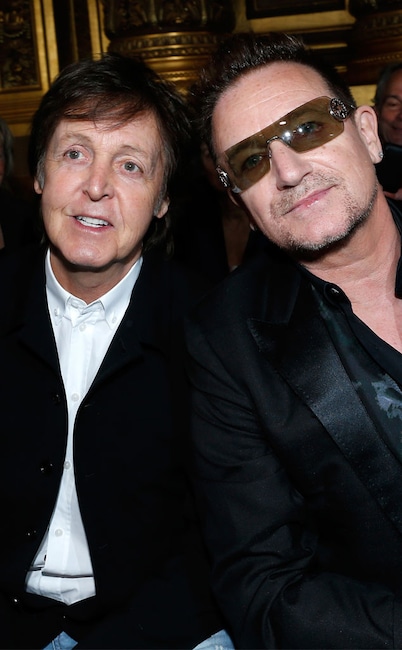 Getty Images
32. France doubled down in 2013, making Bono a Commander in the Order of Arts and Letters.
33. Their politics mostly diverged, but Bono bonded with President George W. Bush over his administration's relief efforts to combat HIV/AIDS in Africa, and the singer was a speaker at the 54th Annual National Prayer Breakfast in 2006.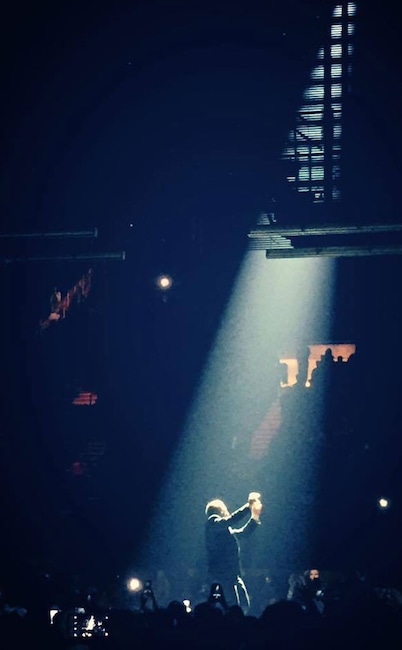 Facebook
34. In 2002, Bono admitted that it was hard to stay upbeat all the time when it came to effecting real change. "I do get depressed on occasion," he told Assayas, "a bit black about the uphill nature of this particular struggle."
35. Asked how, exactly, he broke bread with someone like President Bush, considering the war in Iraq and other policies seemingly antithetical to Bono's mission statement as an activist, Bono said he was simply there as a "single-issue protagonist. You represent a constituency that has no power, no vote, in the West, but whose lives are hugely affected by our body politic. Our clients are the people who are not in the president's ear." He liked Bush as a person, he said.
36. As for former President Bill Clinton, "I love him. I see him all the time," Bono said in 2005. "We're going to have lunch next Sunday, I think. The kids, we'll all go around to his house. His third act is one to watch. He may end up doing more good out of office than he did in—and he did an awful lot when he was in."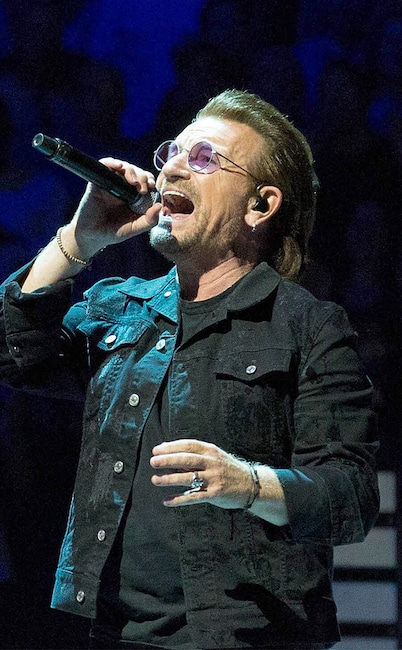 Paul Zimmerman/Getty Images
37. "The best phone call I ever made in my opinion was the the most extraordinary woman in the world: Eunice Shriver Kennedy, sister of John F. Kennedy (and mother of Maria Shriver), the woman who in her forties, after having changed the world once advising to elect JFK to president, changed the world once more by starting the Special Olympics. A legend and a lesson in civic duty," he told Assayas. "All the Kennedys are, and I'm not just saying that because they're Ireland's Royal Family, but because I've seen how hard they work."
38. In 2000 he had a health scare, and was checked out for possible throat cancer, "but luckily," he told Rolling Stone, "I'm out of those woods."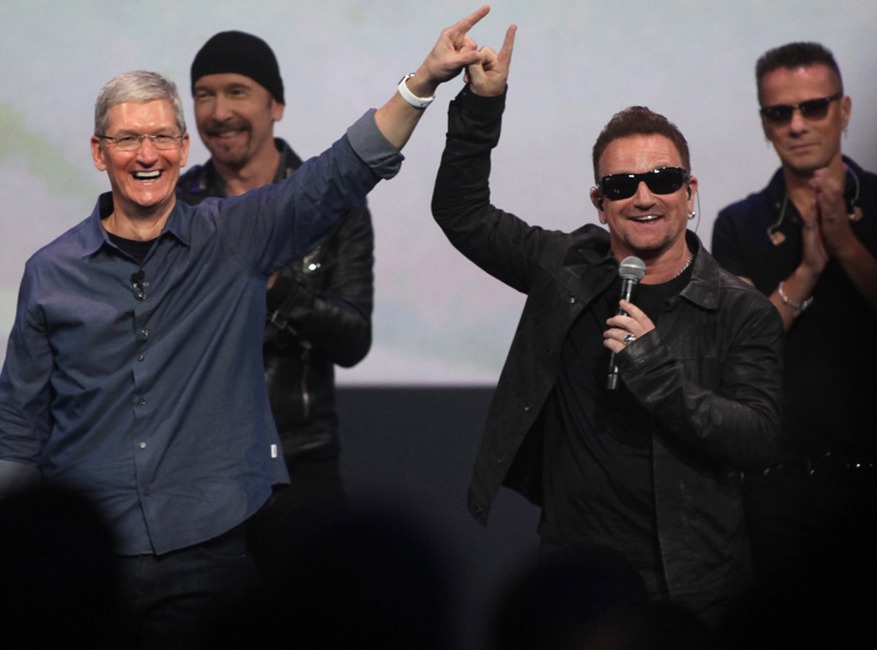 MediaNews Group/Bay Area News via Getty Images
39. He wears sunglasses all the time mainly because he's sensitive to light. "If somebody takes my photograph, I will see the flash for the rest of the day," he told Rolling Stone in 2005. "My right eye swells up. I've a blockage there, so that my eyes go red a lot. So it's part vanity, it's part privacy and part sensitivity."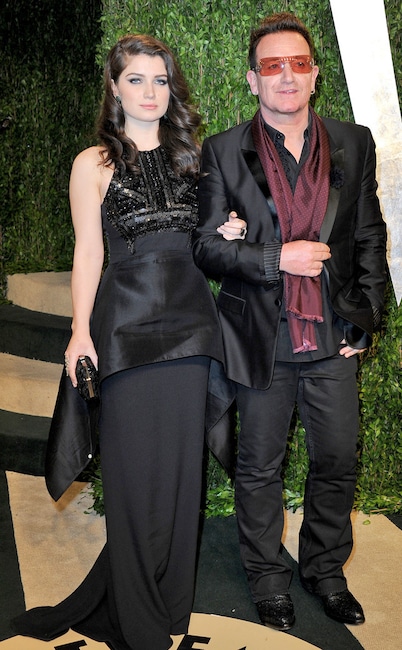 Pascal Le Segretain/Getty Images
40. Daughter Eve is an actress who has appeared in movies such as This Must Be the Place, Bridge of Spies (playing the teenage daughter of Tom Hanks' Cold War-era negotiator) and Robin Hood, and the period medical drama The Knick. 
41. When she left home to attend NYU's Tisch School of the Arts, sister Jordan was already at Columbia, so Bono and Ali packed up and moved to New York, too.
42. The Hewsons bought their Central Park West penthouse from Apple cofounder Steve Jobs.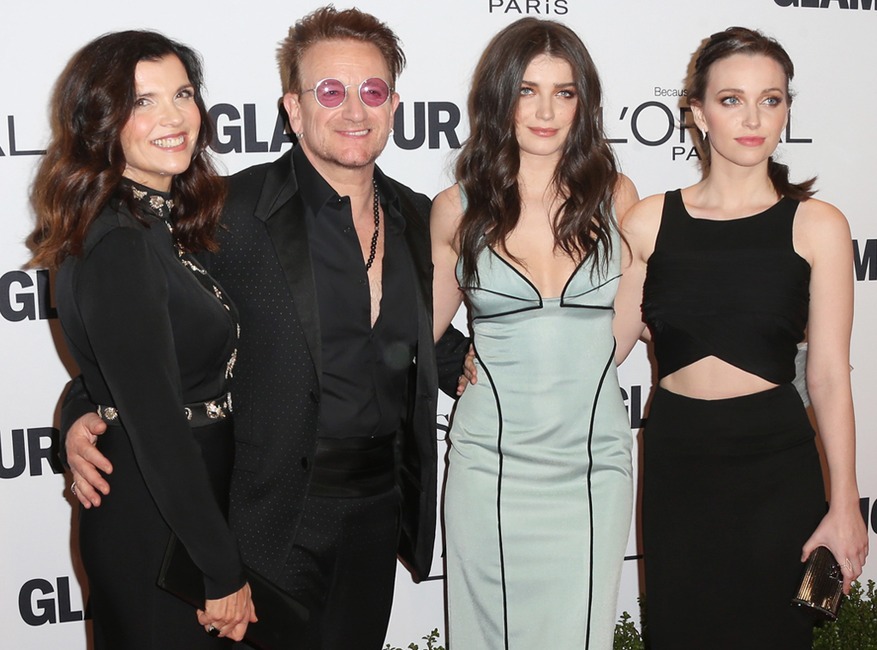 Frederick M. Brown/Getty Images
43. "My dad said he figured out that in order to have a good relationship with your kids, you have to be more fun than them. And it's true," Eve told Britain's Telegraph in 2015. "My parents are way more fun than me and my siblings. We're always like, 'What restaurant are you going to? Whose party is that? Can we hang out with your friends?"https://www.eonline.com/"
A.M.P.A.S./Michael Yada
44. Bono and The Edge own the Clarence Hotel in Dublin together. "He's one of my very best friends," the singer said. "I tend to put people into two categories: friends I worry about and friends I don't worry about. Ali and Edge are definitely the friends I don't worry about. They're similar and they have similar roles in my life. I'm just in awe of them."
45. The bandmates also collaborated together on the music for the trouble-plagued Spider-Man: Turn Off the Dark, which ran on Broadway, and a London stage adaptation of A Clockwork Orange.
46. Bono was close friends with late INXS singer Michael Hutchence, who died in an apparent suicide in 1997. "I felt I had let Michael down because I was lost to my own busyness and hadn't called as much as I would have liked," Bono told Rolling Stone in 2005. "In fact, Ali had spent some time with him and she'd said he looked a bit shaky to her." He didn't suspect that Hutchence wanted to kill himself, but "I just wished I'd been around a bit more. He would confide in me and I in him. We were really great friends. In Cannes we'd go out and we wouldn't come home, we'd just sleep on the beach, having a laugh."
Ernesto Ruscio/GC Images
47. He met his hero Bob Dylan for the first time when he went to interview him for the Irish music paper Hot Press in 1984.
48. He said he would've pursued writing and journalism full time if that whole rock band thing hadn't worked out.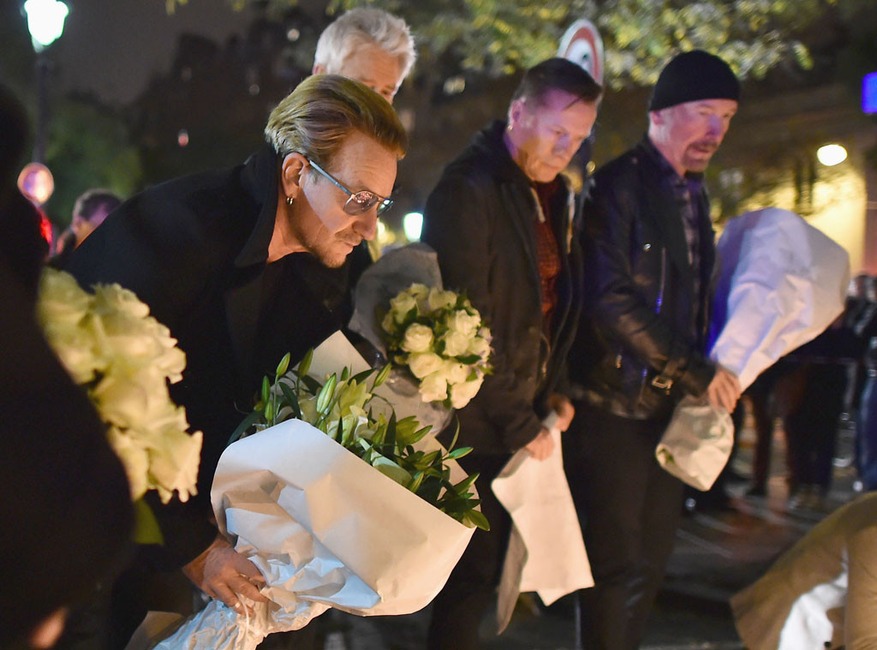 Jeff J Mitchell/Getty Images
49. U2 has had a No. 1 album in every decade since the 1980s, most recently 2017's Songs of Experience.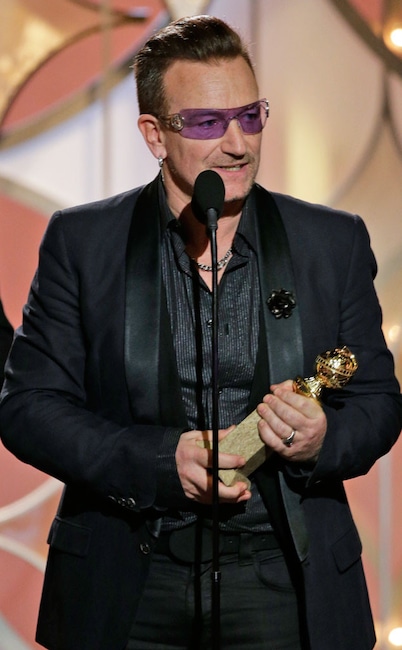 Paul Drinkwater/NBC
50. U2 won a Golden Globe and were nominated for an Oscar for their song "The Hands That Built America" from Gangs of New York.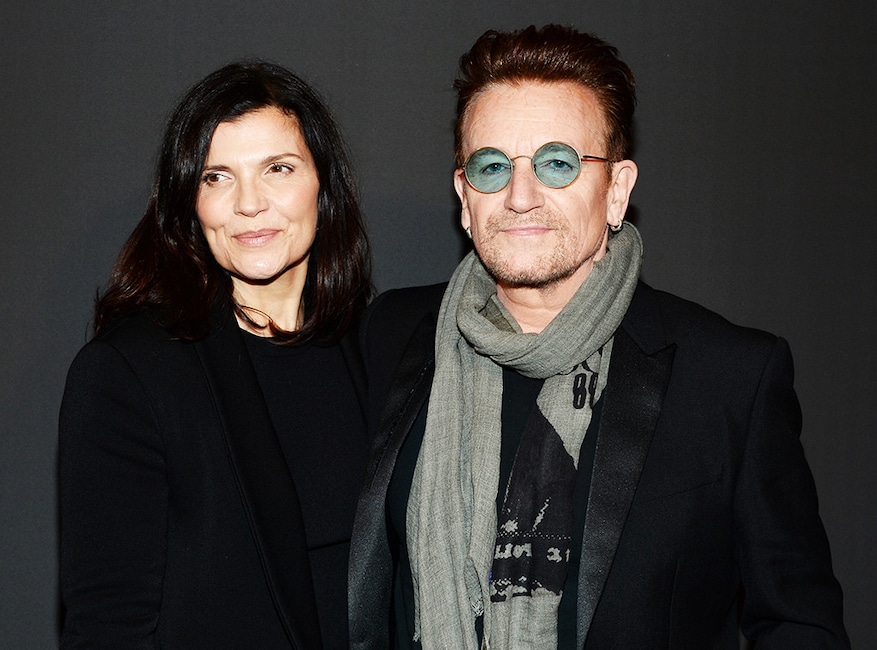 Francois Durand/Getty Images
51. In 2014, Bono underwent five hours of surgery to repair fractures to his orbital bone and left shoulder, upper arm and pinky finger after a bicycle crash in New York. 
52. "There is comic tragedy with a bike accident in Central Park—it is not exactly James Dean," he quipped to Rolling Stone in 2017. "But the thing that shook me was that I didn't remember it. That was the amnesia; I have no idea how it happened. That left me a little uneasy, but the other stuff has just finally nailed me. It was like, 'Can you take a hint?"https://www.eonline.com/"
53. In 2017, The Edge said that Bono had a "brush with mortality" during recording sessions for Songs of Experience, but neither one of them ever clarified what exactly happened. "He definitely had a serious moment, which caused him to reflect on a lot of things," the guitarist told Rolling Stone.
Getty Images
54. Bono visited Bush 43 at his ranch in Texas after her left the White House, and he was close with President Barack Obama, but he realized early on he wouldn't be able to work with President Donald Trump. But he did take a meeting with Vice President Mike Pence, a supporter of Bush's Presidential Emergency Plan for AIDS Relief (PEPFAR).
"So I went, 'Great, I can work with him,' but that was in the early days," Bono told Rolling Stone. "Cuts were promised with the overall slashing of foreign aid. The vice president told us in our meeting that he was supportive of PEPFAR, but I have to say it's Congress that deserves credit for stopping the cuts from going through."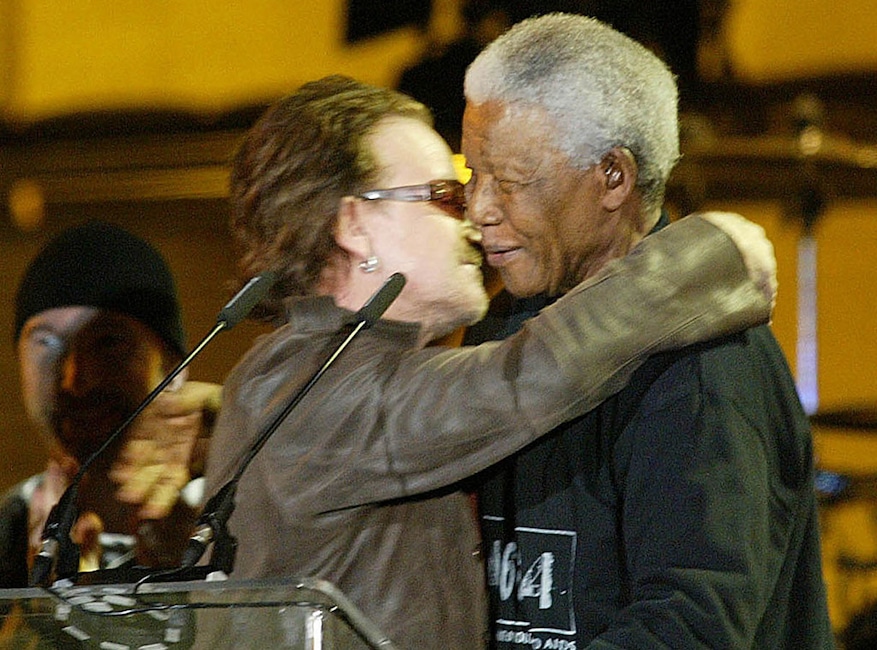 AP Photo
55. Bono has an honorary Doctor of Laws degree from University of Pennsylvania.
56. Thoughts about mortality, influenced by whatever happened to him while making the album, infuse Songs of Experience. "I wanted the people around me that I loved to know exactly how I felt," Bono explained. "So a lot of the songs are kind of letters—letters to Ali, letters to my sons and daughters.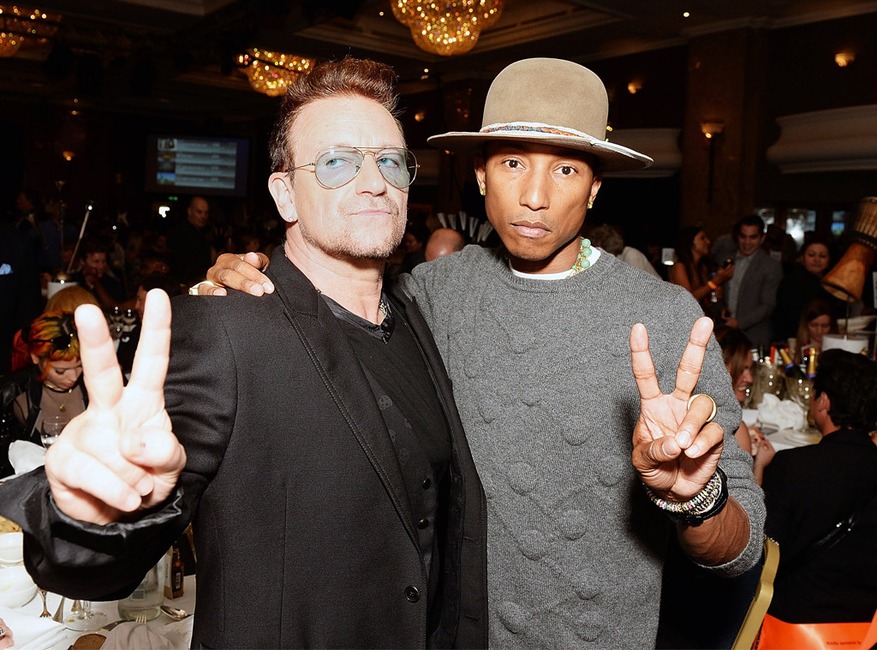 Dave J Hogan/Getty Images
57. Bono debuted a new song in March, "Let Your Love Be Known," as part of the COVID-19 relief effort. It was retitled "#SING4LIFE" as a collaboration with Jennifer Hudson, b and Yoshiki. U2 has contributed a reported $11 million to go toward purchasing personal protective equipment for hospital workers in Ireland.
58. In an interview with Ireland's RTE Radio 1, Bono admitted he was relieved that U2 had long wrapped its last tour before the pandemic shut businesses down and put an end to concerts and other large public gatherings. "We haven't learned to phone in our shows," he said. "They're full-tilt for us."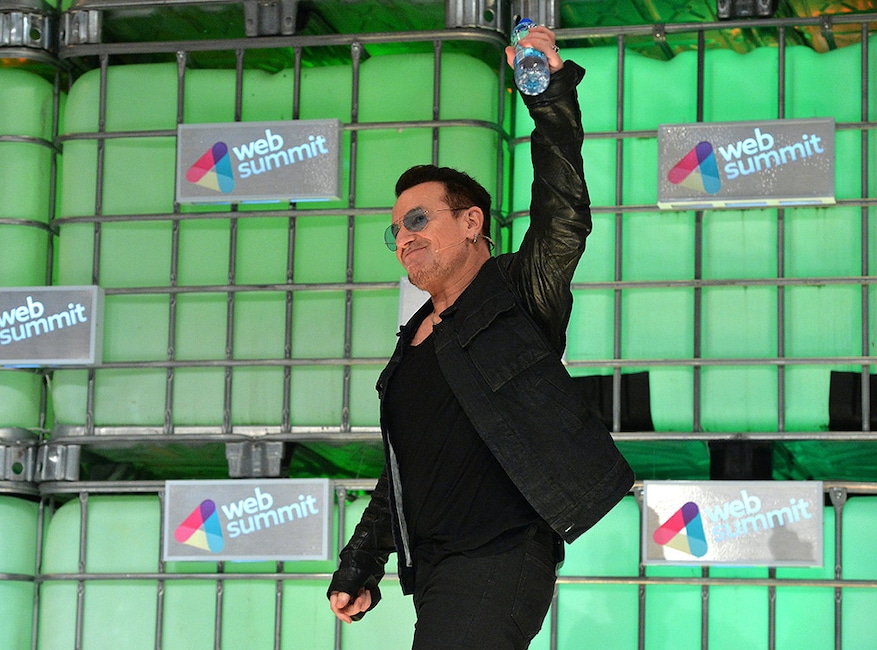 Brendan Moran / SPORTSFILE via Getty Images
59. Asked what his plans were for his 60th birthday, Bono said, "This is not really the moment for a big celebration." He planned to take a long walk and otherwise mark the occasion in self-isolation with his wife. "I'm just really grateful that I got here," he said.
60. But in 2005, when he was 45, Bono certainly sounded optimistic about the future.
"At sixty I'm going to be much better looking than I am now," he declared. "I'm sure of that. I don't hope I die before I get old. A lot of my heroes tend to be people who are alive, not dead, and living long."
"I'm a scribbling, cigar-smoking, wine-drinking, Bible-reading band man," he succinctly, humbly, and perhaps a little facetiously, summed himself up to Assayas. "A show-off…who loves to paint pictures of what I can't see. A husband, father, friend of the poor and sometimes the rich.
"An activist traveling salesman of ideas. Chess player, part-time rock star, opera singer, in the loudest folk group in the world. How's that?"
var fbstarttime = new Date(); !function(f,b,e,v,n,t,s) { if (f.fbq) return; n = f.fbq = function() { n.callMethod? n.callMethod.apply(n,arguments):n.queue.push(arguments) }; if (!f._fbq) f._fbq = n; n.push = n; n.loaded =! 0; n.version = '2.0'; n.queue = []; t = b.createElement(e); t.async =! 0; t.src = v; s = b.getElementsByTagName(e)[0]; s.parentNode.insertBefore(t, s); }(window, document, 'script', 'https://connect.facebook.net/en_US/fbevents.js');
fbq('init', '1611373942516879'); fbq('track', 'PageView');
var fbendtime = new Date();



Source link